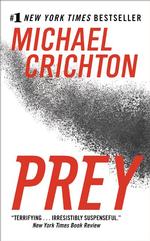 Yesterday on my way to and from chandigarh i finished reading 'Prey' by Michael Crichton and 'To cut a long story short' by Jeffery Archer ( Devesh was considerate enough to lend them to me).
First; Prey (363 pages) : The novel was extremely gripping; taking on the issue of nanotechnology. It begins as a normal household story; where the roles were inverted- the computer-cum-biology geek husband was a househusband (the aftermath of a sack) and the wife employed.
But as we proceed, the happenings go gory -swarms of killer micro-robots (microbots) are on the loose in the desert and are feeding on organic matter- including living animals.Whats worse; they are evolving and multiplying at a stupendous rate, and for all practical purposes, are alive. Jack (the husband) is consulted; for the microbots are based on PREDPRAY code hat he helped develop before he was sacked. Hence begins the quest for killing the swarms; which opens up all new deceptions, throwing up some shrewd secretes underlying the microbots.
All in all; a very readable book.
The other book, 'To cut a long story short' (419 pages), was a collection of short stories by Jeferry Archer.
It contains 15 stories, and all of them are about average in content. 'Death Speaks' is an old fable which almost everybody must have read somewhere or the other (Archer acknowledges it), 'The expert witness', 'Crime pays' and 'The grass is always greener' were easily the best among the lot.
Timepass stuff.
sh**....why did France have to lose after coming this far???